3M Knifeless Finish Line Vinyl Wrap Cutting Tape 50 Meter Roll (164 Ft) for Stripes and More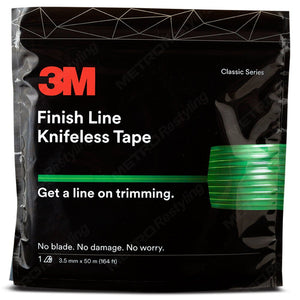 Create on-body panel cuts in vinyl wrap without a knife - cut from under the wrap!

Create inset pieces on curvy areas where the vinyl will not conform and turn without bunching

3.5 mm (1/8 nominal) Width

Use for most wrap applications Conformable around bumpers, door handles, mirrors, etc

Translucent tape so you can see exactly where your line is and reposition the cut line as needed.

Absolutely no residue!

Great for turns and corners.