Gun Grips: Personalized Grippy Vinyl, residue free removal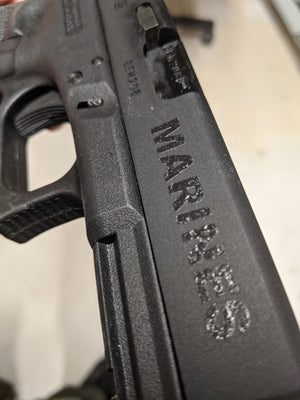 Create your own gun grips!
Grippy textured vinyl ... NOT sandpaper!
Sizes covered by this pricing are up to 1 foot square
Removable without leaving residue
Super easy application, the vinyl has an air release channel in it

Cleanable with cloth and not chemically affected by gun oil
Customizable on your specs, give us the size you want and even if you want your grip to be a texted grip like US Marines, ARMY etc!
Great for grip area, cheek rest, slide grips!
When you order add a note on the size and if you want your grip size to be cut out as text.
An extra (spare) set is shipped so that if anything happens to your grip, you have a free replacement on hand!
Customizable colors too (extra charges apply based on color request) Go with gunmetal, a ferrari color, you name it, right down to the metallic, we can match anything!