Paint Chip & Scratch Sticker Color Match Vinyl Ecological Car Touch Up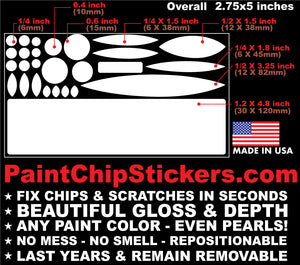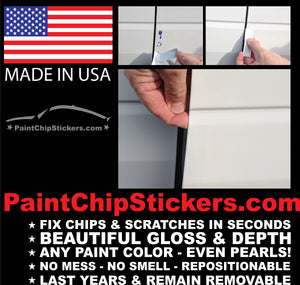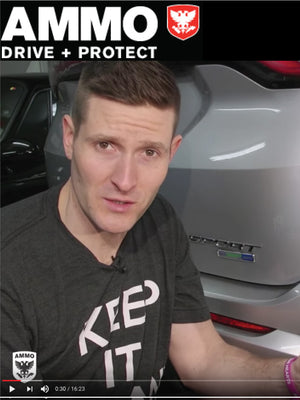 Ecological Automotive Touch Up! Fix Paint Chips & Scratches, chrome delete and refinishing in Seconds! Great Match, No Smell, No Mess, Repositionable, Removable. Better than car touch up paint!
★ Ecological, Easy & Fast!
Paint Chip Stickers apply with low intitial tack and are easily reposition-able -- plus they have air release channels in the adhesive. It only takes a few seconds to cover chips and scratches 400X more ecologically than paint!
★ GOOD MATCH TO FACTORY PAINT, NO MESS, NO SMELL, EASY REPAIR OF CHIPS & SCRATCHES
An ecological automotive touch up! Paint Chip Stickers closely match factory paint colors - even new complex pearls! They're easy to apply, are re-positionable, and leave no mess and don't smell! Eco friendly car paint repair and refinishing!
Advanced air release channels in the adhesive provide easy application. Lightly applying at first will allow for repositioning - pressing down firmly seals the adhesive and helps protect from water, road salt etc.
★ GOOD DEPTH & GLOSS - NEAT, CLEAN CHIP & SCRATCH REPAIR
An excellent repair or refinish in seconds! Color Match Wrap has depth and gloss that looks great. Paint Chip Stickers are the only DIY repair that will actually match today's complex tri-coat and tint coat paints. It is vinyl and is not as glossy as high quality paint but offers other advantages like better repairability, ecological repair and fast application.
★ DON'T SWEAT IT, PAINT CHIP STICKERS ARE REPOSITIONABLE - REMOVABLE, BUT WON'T WASH OFF
Paint Chip Stickers can be repositioned if needed. Plus there are enough on the sheet to try again and re-apply if the first position is not perfect. Paint Chip Stickers will adhere strongly to your paint, won't wash off, but remain removable if warmed by a heat gun or hair dryer for a moment. Note that this vinyl is a laminated vinyl and upon removal, it is key to remove from the base layer and not to try to remove by only pullng the laminate (clear) layer.
★ VARIETY OF SHAPES FOR MANY REPAIRS
Paint Chip Stickers come on a sheet with many shapes designed for chips, scratches, parking sensors, and other damage. Many of the shapes can be trimmed to the size you need!
★ MOTORCYCLES
Color Match Wrap can be made for some motorcycle colors with a minimum order. Please contact us before ordering.

★ CAN WE MAKE ANY COLOR? PRICE & AVAILABILITY NOTES
We can make vinyl in nearly all colors. Some very low volume or older colors may have a minimum order qty of our 2 foot square roll. If that's the case with your color we'll let you know after reviewing your order.
★ APPLICATION GUIDE
CLEAN your paint with a good quality car shampoo. Rinse and dry thoroughly.
TEMPERATURE is important. Apply between 70-90F or 20-30C. Warm or cool your work area as needed.
MEASURE your chip, scratch or blemish and decide which sticker will work best.
REMOVE PaintChipSticker(s) FROM SHEET. Sometimes a razor or knife tip will help in removing the sticker from the sheet and applying to the paint. The shapes are cut by a robot that applies some pressure, the backing paper gets a slight outline cut as well. Using just your finger or bending the backing may cause the backing to come away with the sticker. If you see this happen, stop and use a sharp edge to lift the vinyl away from the backing and you won't have any issue.
APPLY PaintChipStickers TO THE PAINT with light pressure, reposition as needed. When happy with placment press the sticker down with strong pressure. This will flatten the air release channels and complete the adhesion and seal.
TO REMOVE PAINT CHIP STICKERS, again temperature is important and removal should be in a 70F plus room or you may want to use a hair dryer or heat gun to warm the sticker to 90-100F. It will then more easily be removed. Do not apply heat in excess of 100F to your paint as this may cause damage.
NOTES: If you have a chip or scratch to the metal, you may want to clean and seal the area before applying PaintChipStickers. Contact us for advice. If after a few years, the removed PaintChipStickers leave some adhesive residue, it can be removed with non-solvent adhesive removers available online at at auto parts stores.
SPECIFICATIONS OF COLOR MATCH WRAP
Common Applications: Body paint color matching on chrome or other parts. Repair of paint scratches, ships, and other damage. Color wrapping of repaired or new parts. Color change to an oem color.

Features:
Cast, laminated film. Good conformability with the film being much more stable to apply than standard vinyl. Does not tolerate over-stretching. May require inset pieces on compound curves.
Avery makes our adhesive. Unidirectional air egress helps eliminate bubbles and wrinkles
Low initial tac of the adhesive allows for easier placement and adjustment
High Gloss, Satin or Matte finishes available, some may require additional charges
Durable for outdoor performance and color stability
Dimensionally stable backing liner for easier application
Long term removability. Warming work area, body surface and film may be required. Use of electric heat gun can aid and speed removal.