Color Match Wrap Vehicle Vinyl Wrap that Matches Car Paint Color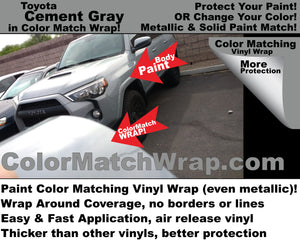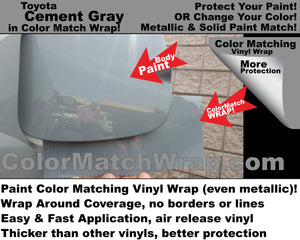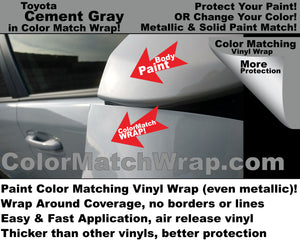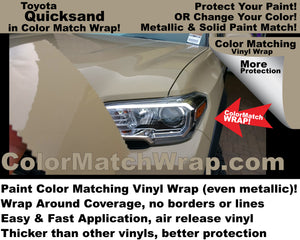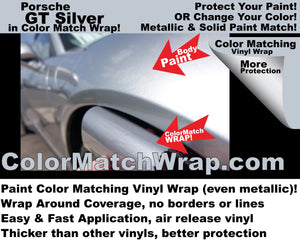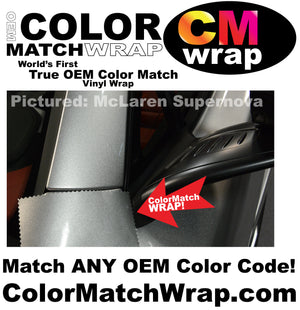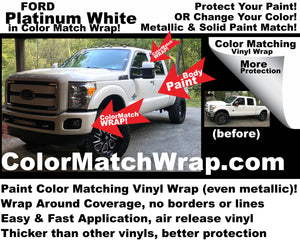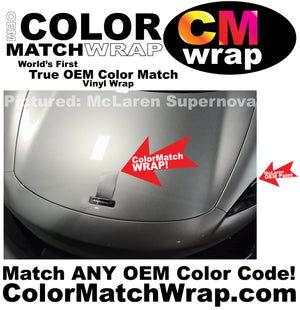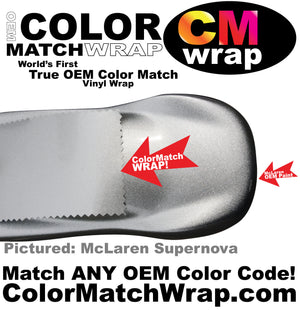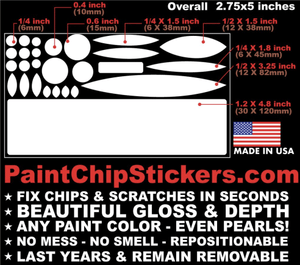 Color Match Wrap: An Ecological and Fast way to Chrome Delete, Refinish and Repair car paint!
Read FAQ's :: Application Guide

★

MATCH AUTO PAINT IN VINYL

- PRICE & AVAILABILITY NOTE
Color Match Wrap matches factory spec for paint colors - even new complex pearls! However we are NOT matching your actual car, we make the product to match the factory spec for that color - as it was new. We cannot simulate age changes or variation in production line runs.
Most colors are covered by our pricing above however some particular colors, low volume, older colors & some motorcycle colors may have a minimum order quantity. In these cases, we will advise after reviewing your order.

Advanced air release channels in the adhesive provide easy application. Lightly applying at first will allow for repositioning - pressing down firmly seals the adhesive and helps protect from water, road salt etc. Metallics are non-directional resulting in material savings and simplified application.
★ HOW LONG DOES VINYL LAST?
Vinyl can last years but the life you can expect depends on how much sun weather and abrasion or impacts (road debris) it sustains. Our vinyl is contact pressure sensitive and the adhesion is complete when you press firmly. As long as the surface is clean during application the vinyl will adhere strongly and is removable if you peel it off, but will not simply fall off in rain or washing. We have a product called Nanocoat that can help extend the life of vinyl. Note that this vinyl is a laminated vinyl and upon removal, it is key to remove from the base layer and not to try to remove by only pullng the laminate (clear) layer.
★ GOOD

DEPTH AND GLOSS - SELF HEALING
Color Match Wrap has depth and gloss that looks great and is also available in Satin or Matte (Satin/Matte requires upcharge) finishes. Color Match Wrap is self healing to a degree and can be coated with our Nanocoat protection coating to extend it's life. It is vinyl and not as glossy as high quality paint but offers other advantages like better repairability, ecological repair and fast application.
★ DURABLE &

PROTECTIVE
Color Match Wrap is more scratch resistant than standard vinyl. It also offers more protection from rock chips and scratches (thicker and stronger than std. vinyl by 1.5 times). It also blocks most UV light. Many customers use Color Match Wrap as a paint protection film (PPF). Color Match Wrap is an easier and faster install than many ppf materials - and Color Match Wrap, conforms around panel edges rather than needing borders and lines as many PPF films have.
★

Color Match Wrap is FUN!
Great for Chrome-Delete, Trim parts, Interior parts, a Better Clear Bra, A Cooler Color Change vinyl in REAL automotive colors with incredible depth!

★

EASY INSTALL
Air release vinyl that installs around panel edges. READ OUR APPLICATION GUIDE!
★

MOTORCYCLES
Color Match Wrap can be made for some motorcycle colors with a minimum order. Please contact us before ordering.

★

WORLDWIDE SHIPPING
Our cart will calculate a shipping rate. Note, however in some cases, it is not a final rate, we may adjust up or down after reviewing your address and the package.

MORE INFO - FINE PRINT
Some transparent colors such as some current pearls can be more expensive to replicate on vinyl. We may upcharge at our discretion on those colors for rolls and samples. Note that due to the color and lamination process a margin of the edge may be unusable.
Color Match Wrap uses Top Quality air release adhesive, making it a reliable, easy to apply wrap.

Color Match Wrap can be overlaid with other vinyl graphics. Metallics are non-directional, providing big material cost savings.

Removability better protected: Color Match Wrap better protects the base adhesive and vinyl resins and dramatically reduces the escape of resins and hardening of the wrap, thus aiding in easy removal even over time and in harsh environments.

Gloss, Satin or Matte finished available. Color Match Wrap is available in a variety of gloss variants. If something other than gloss is required, please let us know at time of ordering as there may be an upcharge for non gloss finishes.
Color Match Wrap is a vinyl and is produced in smaller lots. We don't sell perfection. We sell very high quality. We guarantee a 98% defect free surface. It is a specialized and crafted product but there is possibility of small flaws in the surface however these are usually small and won't exceed the rate above.

How thick is Color Match Wrap?
**Measurement case: 3M 1080 vinyl thickness: 0.06mm, Color Match Wrap is0.08-0.10
SPECIFICATIONS OF COLOR MATCH WRAP
Common Applications: Body paint color matching on chrome or other parts. Repair of paint scratches, ships, and other damage. Color wrapping of repaired or new parts. Color change to an oem color.

Features:
Cast, laminated film. Good conformability with the film being much more stable to apply than standard vinyl. Does not tolerate over-stretching. May require inset pieces on compound curves.
Avery makes our adhesive. Unidirectional air egress helps eliminate bubbles and wrinkles
Low initial tac of the adhesive allows for easier placement and adjustment
High Gloss, Satin or Matte finishes available, some may require additional charges
Durable for outdoor performance and color stability
Dimensionally stable backing liner for easier application
Long term removability. Warming work area, body surface and film may be required. Use of electric heat gun can aid and speed removal.