Granatelli Motorsports Products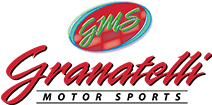 Buy Granatelli Motorsports Performance products at ColorMatchWrap!
Since 1989, Granatelli has been engineering and manufacturing the highest performance, engineered USA-made parts. 
From summer 2022 we have started to offer Granatelli on any of our restoration/speed and performance projects.
You can also order Granatelli parts from us!
Granatelli makes useful, out performing products that are more than worth their price... something rare! Have some fun on their video gallery!
Throttle bodies, exhaust cut outs, ignition parts... the list is long and the quality & performance is always there. 
Let's get you some Granatelli performance! Send us a message or call!
You can always browse Granatelli's site and then let us know what you'd like to order or have installed!